In the wake of her straight-sets loss to Elena Rybakina, Jelena Ostapenko has labelled her decision to play mixed doubles last night a bad call.
"I felt like maybe mixed doubles yesterday was not the right decision to play that late," she told the media post-match.
Ostapenko and her partner David Vega Hernandez were scheduled to play their second-round mixed doubles match at 8pm on Monday.
Finishing late into the evening, Ostapenko was back at Melbourne Park at 10am this morning to prepare for her singles quarter final.
Asked if the short turnaround impacted her performance today, Ostapenko said she felt "mental tiredness" during her match.
"Until I came [back] to my room, it was almost 10pm and I really didn't get much sleep because I had to play at 12:30pm [the next day]," she said.
"All these things maybe were not the right decision, I don't know, or maybe the scheduling could be a little better.
"But it is as it is. It's already in the past."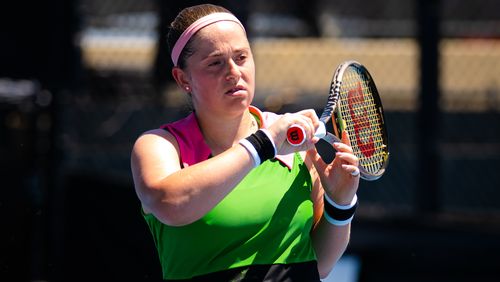 Sebastian Korda has revealed that the wrist injury which ended his Australian Open campaign is one he'd carried all summer.
The 22-year-old's promising tournament was brought to an end when he retired hurt during the third set of his quarter final clash against Russia's Karen Khachanov.
Following the match, Korda revealed that he'd been dealing with the wrist issue since the Adelaide International, where he was beaten in the final by Novak Djokovic.
The Azerbaijan Tennis Federation has sent a memo to the International Tennis Federation demanding action against Australian Open semi-finalist Karen Khachanov.
Khachanov progressed to the final four of the men's draw with a walkover victory against Sebastian Korda on Tuesday.
Khachanov represents Russia on tour, but also represents his Armenian roots, and has used his Open run to send support to Artsakh amid the ongoing Azerbaijani blockade.
After his second-round victory he wrote on the camera, "Keep believing all the way until the end! Artsakh stay strong!".
He later explained the reason behind the writing.
"I have said many times that I respect and appreciate my [Armenian] roots. I am a citizen of Russia, I represent Russia, but I have Armenian blood from my father's and mother's side," Khachanov said.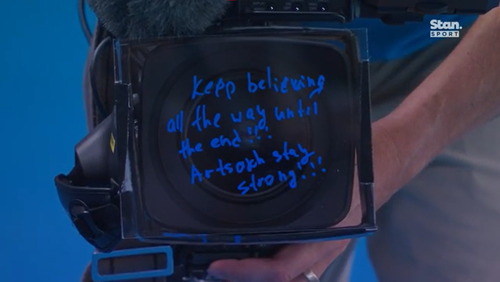 "I want to support them in any way, to give [them] faith and strength."
The Azerbaijan Tennis Federation wants the player sanctioned over the comments.
"Karen Khachanov… attracted attention with his hateful act," a statement read.
"The Azerbaijan Tennis Federation letter presented facts and legal documents regarding the provocation against Azerbaijan.
"The ATF condemned this act and demanded the tennis player be punished and urged the (ITF) to take harsh measures for prevention of such incidents in the future."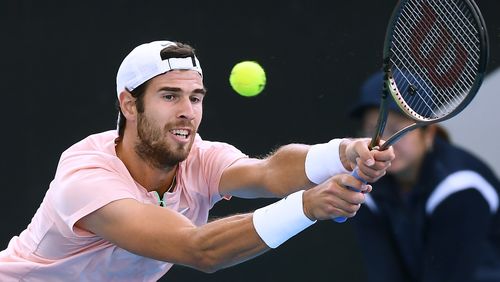 It was all class from Karen Khachanov after reaching the semi final of another grand slam, he's had a good 12 months has the Russian!
He gets the stunned crowd in at Rod Laver Arena to cheer Korda off the court as the youngster retreats to the locker room.
"Back-to-back semi-finals in a grand slam, feels great, you know obviously not the way you want to finish the match," he said.
"I think until a certain point it was very competitive, very good battle. Sebastian beat one of my friends, Daniil in three sets, and five sets against Hurkacz, so you know he's playing great tennis so give applause to him."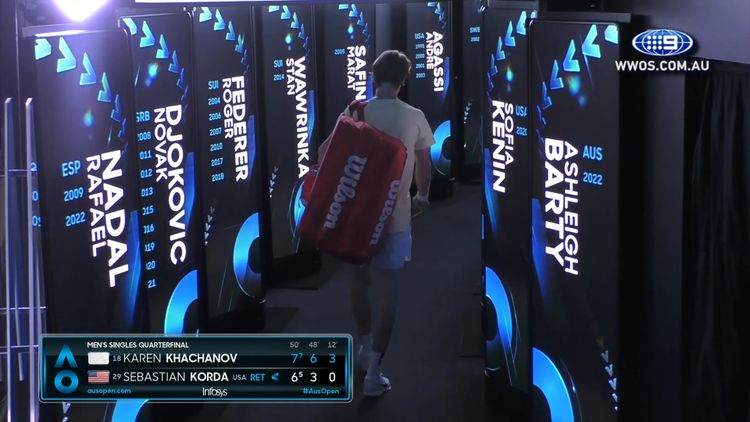 Sebastian Korda has just conceded the match!
He went down 3-0 in the third set and approached Khachanov at his chair and shook hands.
A disappointing end to a brilliant tournament for the young gun. We're sure to hear more from him over the next decade.
Khachanov through to the semi final! 
"That's heartbreaking for a man that has given us so much joy, he's won over the crowd here at Melbourne Park. But he'll be back. Sebastian Korda here to stay," Peter Psaltis says on Nine's coverage.
There was a distinct difference in the body language of the two players as they came out for the start of the third set.
Korda, perhaps still bothered by his wrist, retreated to the locker room and spent a lot of time in there.
Khachanov did not wait at his seat for his opponent, instead waiting at the baseline on one end of the court with some balls as Korda slowly strode back out.
The youngster looking a little rattled here.
"There isn't the intensity in the body language," Todd Woodbridge says on Nine's coverage.
"That all comes from thinking about this wrist issue. It's a shame because he's played so well this summer here in Australia, and it's really distracting him. He's not really giving himself the best chance with the unforced error rate like it is.
"He's in two minds isn't he – should I keep going, is this going to do anymore damage – he's barely able to win a point here."
Karen Khachanov takes the second set 6-3 and now leads two set to love over Sebastian Korda.
Korda has been hampered by a wrist injury that required a medical timeout during the second set.
Immediately after that medical timeout, Sebastian Korda gets broken by Karen Khachanov.