Prince X 105 
A super racket with Twist Power Technology, 27-25 mm box-type face that helps you in all doubles situations.
Product Details
Item Number : 7TJ083
Product name (model name) : X 105
Series name : Prince X Series
Color : Black
Material : High elasticity carbon
Head size : 105inch 2
Average weight : 270g
Balance point (frame) : 310 mm
Full length : 27inch
Swing weight : 280
Frame thickness : 27-25-22mm
Grip : Cash Register Pro (Black)
Deployment grip size : 1, 2
Power level : 1150
String pattern : 16 x 19
Recommended tension : 45-50-55lbs
Best match strings : EMBLEM CONTROL
Cover : Exclusive full case (black)
Country of origin : MADE IN CHINA
Other : Smart tennis sensor compatible model
TECHNOLOGY
2 Piece Throat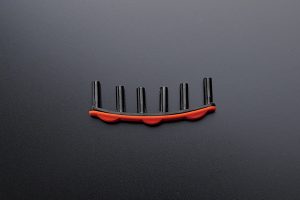 Adopted a two-piece throat that reduces shock at impact and suppresses string vibration.
Twist Power Technology

A structure in which the throat has a twist and the fore and back show different performance.
A special twisted shape creates a difference of up to 11% in bending between the fore and back surfaces, striking strongly on the fore surface and hitting a ball with stretch on the back surface.